Our Staff
Our Staff are ably led by the Registered Manager, Tracy Delannoy, who has been with us at St Dominics since 2010. Tracy has worked her way up from Carer to Team Leader and then went on to Clinical Lead ensuring our care staff's skills and competences were to the highest standard. Tracy was then promoted to Assistant Manager and worked alongside our previous Home Manager, Jean Dolmor RN, for over a year.

Since April 2016, Tracy has been acting Home Manager and now following Jean's retirement, Tracy has agreed to take on this role permanently. Tracy holds all the necessary qualifications to manage the Home including the Institute of Leadership and Management Level 5. Tracy has an extremely caring nature and is able to encourage residents to fulfil their aspirations. Staff either hold NVQ qualifications or are working towards obtaining them or the Care Certificate for their skills and competencies.

Tracy has developed a good rapport with the local GP's Surgery, the District Nurses who come into the Home and has just changed to a new dispensing Pharmacy. We are well supported by practitioners from outside the Home such as Farleigh Hospice, the Parkinson's nurse, the COPD nurse, Speech and Language Team, Falls Unit and the Mental Health nurse.

All our staff are fully trained in every aspect of care and Tracy, with the support of our staff, has enabled the Home to pass re-accreditation for 'Gold Standard in Palliative Care'. Care is provided over a three-shift system providing continuous 24-hour care.

Charlotte Thomas is our Head of Care and splits her time of working shifts on the floor with care staff and working in the office with Tracy. Each care shift is run by a Team Leader who is responsible for the smooth running of the shift. Each resident is assigned a Key Worker which is a member of the care staff who has responsibility for choosing and buying Birthday and Christmas gifts for their resident, making sure they liaise with the family with regards to clothing issues and toiletry shortages etc.

Our Activities team are well supported by volunteers who attend the home on a regular basis, as well as our carers involvement in the activities programme. A full and varied programme is arranged for the residents within the home including a weekly Men's Club and outings to nearby places of interest. For those residents who prefer to spend more time in their rooms or who are unable to participate in the activities held within the main lounge and conservatory due to ill-health, enjoy regular one to one's to ensure they too are included. A new programme of activities every afternoon specifically for our dementia clientele is hosted by a carer and supported by the activities' staff.

Our housekeeping team work tirelessly to ensure that the Home is kept clean and fresh. There is a fully equipped laundry ensuring that residents' clothing is efficiently laundered and returned.

Our kitchen is manned by four cooks who are all trained to cook good, wholesome food which accommodates all of our residents' dietary needs. They provide a wide choice of dishes and the menu is resident led.

All staff are trained in the same values and ethos of the home to ensure continuity of the excellent care provided. Many of our staff are multi-skilled and work across department to support the smooth running of the Home.

Activities staff planning activities, outings and entertainment for the residents'.
What better way to spend an afternoon!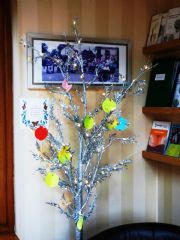 Our staff compliments tree.
Ellie gives Nana's nails a manicure
Staff joined in the Burns lunch festivities.